Overview
[
]
PetlitMC is a Pog Senior (old) Moderator on the epic server known as VanillaVerse from the United States and is 16 years YOUNG! She joined VanillaVerse on the 14th of August, 2014, and became a gamer helper on February 28, 2015. She left the staff team after eight months because she wasnt pog enough(LOL), but rejoined on November 10, 2018.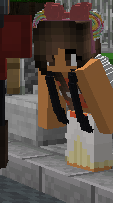 Likes
[
]
Procrastinating
MAKING FUN OF PANCAKES GRAMMAR >:(
Mindlessly elytra hopping while sitting in voice call
Hula
Internally screaming
Looking at herself
Disney
Goldfish crackers
Sleep
MightBeLynn ;)
PancakeNinjaz
Her Minecraft husband, Alcher
yelling POG
chase lol
Dislikes
[
]
Being alive, in general
The idea of marrying her 4 other Minecraft fiances, especially MightBeLynn.
Trivia
[
]
PetlitMC is the youngest admitted staff member since 2015.
She knows Disneyland better than her hometown.
She yells at pancake for incorrect grammar when he fixed her grammar mistakes on her page >:(
Would ban everyone on the server if she could