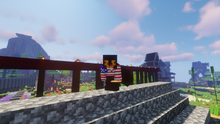 "I hate William Shakespeare, who's with me folk?" - PancakeNinjaz
Pancake is the most beautiful breakfast food to ever walk minecraft. He is also a Mod on VanillaVerse!

CURSING ADVOCATE!!!!!!!!!!!!!
ANTI SHAKESPEARE ACTIVIST!!!!!!!
EX FRIENDS WITH CEE LO GREEN!!! (stole his song)

Likes:
computers and things of the sort
Kinda Hot
Trivia:
Pancake plays the alto and tenor saxophone but is trying to learn guitar
Pancakes favorite genre of music is 70's rock
Pancake has played on VanillaVerse for 6 years
Pancake is clearly uneducated and unable to formulate sentences with proper English grammar, as per the last two trivia facts.